Though perhaps 90% of Florence LaBadie's films are forever lost, the remnant is sufficient to justify the enthusiasm of her admirers. Blake's dictum that "Energy is eternal delight" has never had a better application than in silent film, and though energy may be misdirected, its absence leaves an emptiness that can rarely be redeemed. Florence possessed an abundant energy that sometimes brimmed over in the nervous mannerisms deplored by Louis Reeves Harrison, but that also filled formulaic gestures with eye-catching verve. A viewer can sense that she's excited to be in front of the camera, perhaps a little scared, perhaps more than a little proud. Close-ups were uncommon in her early films, but her unconventionally beautiful and mobile face, with its large eyes, long jaw and hint of an overbite, draws the eye like a magnet. Comments on a frustratingly small number of her films follow.
ENOCH ARDEN, PART II
As Arden's adolescent daughter, Florence brings a playfulness to the role that undoubtedly owes something to Griffith's direction. She romps about with Bobby Harron in the best Griffith style, but small gestures of enthusiasm as she enters and exits scenes seem more individually distinctive.
THE PRIMAL CALL
In a bit part as Claire McDowell's maid, Florence looks predictably shocked when she's kissed by her employer's caddish boyfriend.
FIGHTING BLOOD
Florence doesn't command much attention from the camera as Bobby Harron's girlfriend in this Griffith western. Dressed in a long skirt, she does race up a Griffith Park hill with commendable athleticism! Full Reel
BOBBY THE COWARD
Teamed once again, Harron and LaBadie once again don't get equal time. But even though this one belongs to Bobby, Florence gives bite to the girlfriend role. Spitting out her scorn for Bobby's cowardice, she's less than a sympathetic figure. But she begs forgiveness of Bobby the hero with such an irresistibly melting manner that no viewer could blame him for taking her back.
DR. JEKYLL AND MR. HYDE
Now at Thanhouser, Florence waits and worries as James Cruze wrestles with the title roles of this Stevenson fable. LaBadie fans have to be satisfied with fragmentary displays of cheerfulness, tearfulness, and terror. Full Reel
CINDERELLA
An early star turn at Thanhouser for Florence and a very satisfying one. She's a convincingly harried and endearing step-daughter during the film's knockabout first act. Transformed by her fairy godmother, Florence conveys a dewy sense of wonder, followed by a proud and elegant donning of her new identity. It's 1911, so the camera never ventures close enough to catch the full dazzle of her smile as she dances with the prince. Full Reel
Several more early Florence LaBadie performances still survive in 1911 Biographs such as Dave's Love Affair and The Girl And The Crook (some sources contend that Florence also worked at Biograph in 1909). The Thanhouser legacy is almost entirely lost, but Undine, Star Of Bethlehem, and Cymbeline still remain from the pre-feature period, while Man Without A Country (Complete Feature) has also been preserved. Is it possible that not even a fragment of Million Dollar Mystery's hundreds of prints and dozens of chapters is left? Yes, it's been nearly 80 years, but...
This portrait of Florence has been a labor of love, but it's still an incomplete one. Ninety-five years have passed since her death, so recovery of the real Florence will remain a never-ending work in progress, just as rediscovery of the reel Flo will always be a frustratingly partial one. Imperfect though the portrait may be, we hope that it will inspire a few readers to acquaint (or re-acquaint) themselves with this appealing heroine of long ago.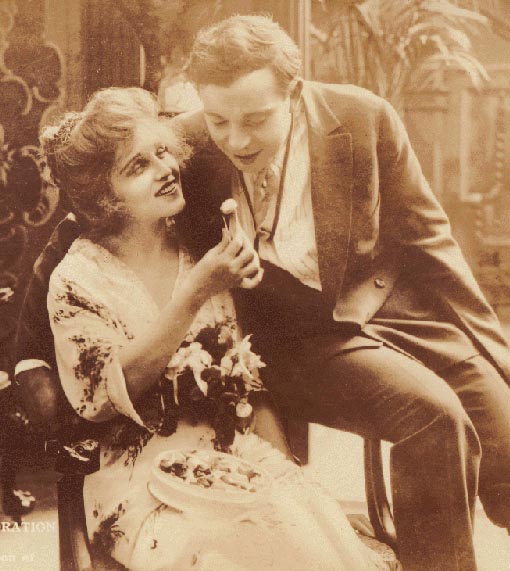 Million Dollar Mystery photo from A Million And One Nights,
Copyright 1964 by Simon and Schuster
Copyright Randolph Film Corporation