Kidnapped child rescued!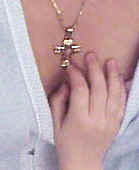 Tessie touches the cross worn by her "mumma."
Tessie has been reunited with her mother!
We're thankful to the many people who gave their time and prayers and contributed to the search for Tessie.
We're happy to report that even after 9 months apart, Tessie recognized her mother straightaway, and smiled and waved hello to her. Their reunion was filled with laughter, singing and playtime.
Statement for the court,
at the sentencing of the kidnapper
Written and sent Monday, October 25,1999

Your Honor,

I'm sorry that I'm unable to attend this sentencing in person. I hope that Mr. ( ) has clarified my reasons for missing this important event. [The defendant had made threats toward the mother.]

I'd like to thank the people who gave their time and energy to retrieve a little girl from a nightmare:

* The policemen who took the report and initiated the case.
* The airport security team.
* Private investigator ( ), who came to our aid.
* The FBI agent who gave us invaluable advice for the search.
* Our U.S. attorney ( ) and our Greek consultant ( ), who worked on the Hague treaty application.
* The State Department and the Greek Hague office.
* The translator who spent hours transcribing documents from English to Greek.
* The Thessaloniki attorney and private investigators who uncovered important information during the search.
* The Greek private investigator who located my daughter and recommended that I be accompanied by bodyguards for the retrieval.
* My extended family, who pulled together savings and credit cards for the 79 thousand dollars spent on the case.
* The British bodyguards and Cypriot translator, who accompanied me and my sister to Greece for the recovery.
* Greek attorney ( ), who assisted the Greek courts with the custody documentation. She was eloquent and brave at the recovery, even when [the kidnapper's] stepfather chased her and called her obscenities. She persisted for hours until my child was at last returned.

These special people worked as a team for nine months for the sake of one little girl's health and happiness. On behalf of my daughter, I thank them.

Sincerely,

Tessie's mother
Thank you all for the help and support that you gave us throughout this ordeal.
---
National Center for Missing and Exploited Children is the ONLY website at which you need to register your child as missing. NCMEC is a non-profit system with federal affiliation; they work with the law enforcement divisions on your case. Most other "list your missing child here" websites are hosted by people who'll contact you and promise to find your child in exchange for large amounts of money. If you need that kind of help, look for legitimate private-investigator listings, or recovery sites that don't ask you to "register" your missing child in their database -- don't get duped by people who risk children's lives for money.