Heidi - a Mini American Eskimo Dog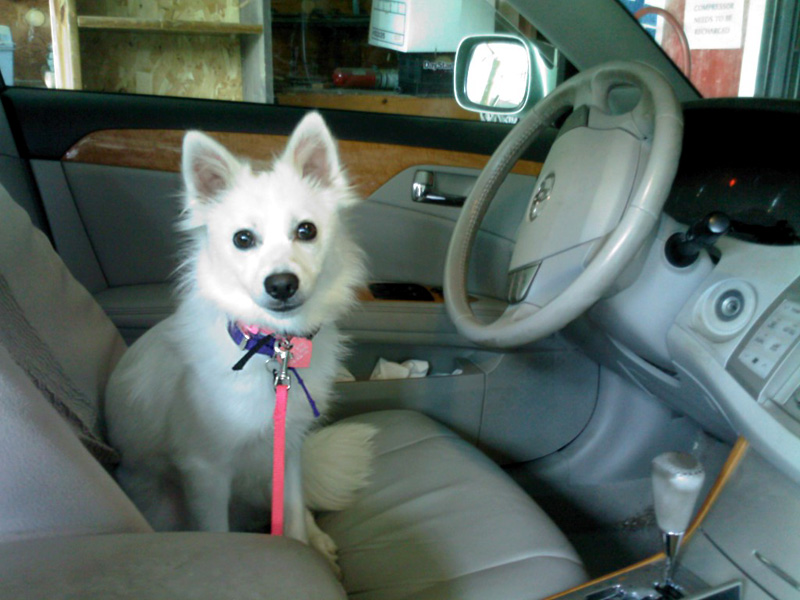 HEIDI UPDATE AUGUST 18 2011 - HEIDI HAS BEEN ADOPTED! - HER NEW MOMMA IS AN AGILITY JUDGE AND HAS PLACED NATIONALLY WITH HER OTHER DOGGIES! - HERE IS HEIDI AT HER NEW HOME WITH "KIA"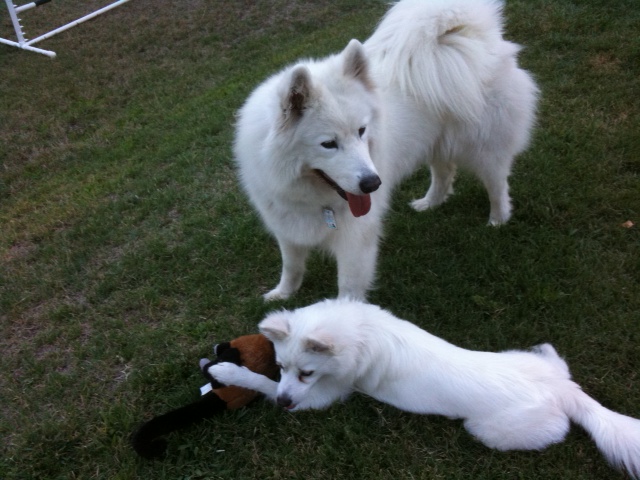 Heidi is 1 year old. Her fur was affected by her earlier life on the streets... but she will get fluffier over time!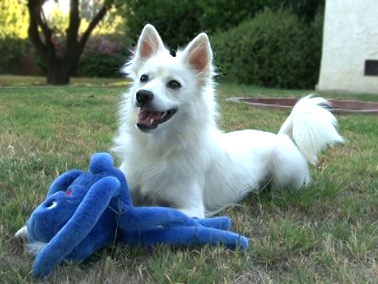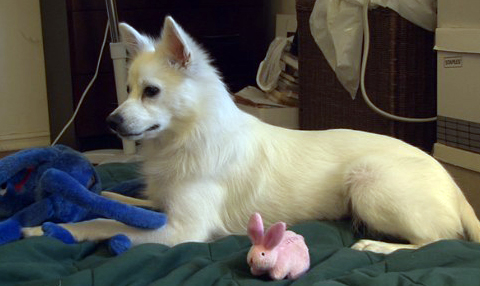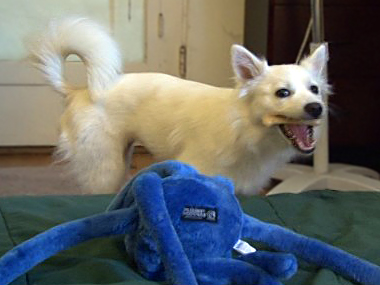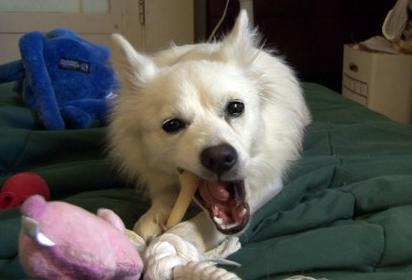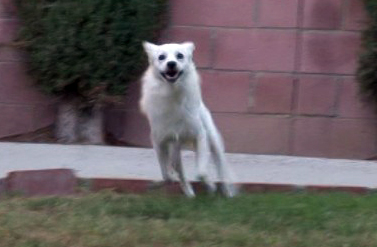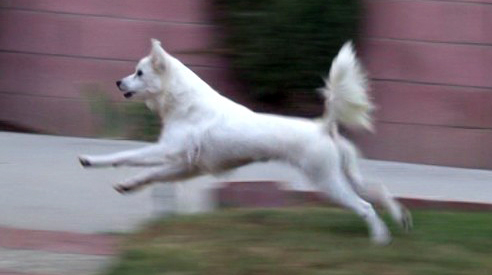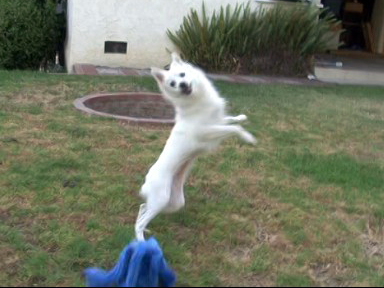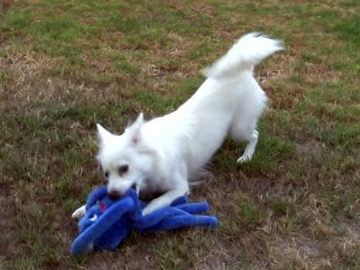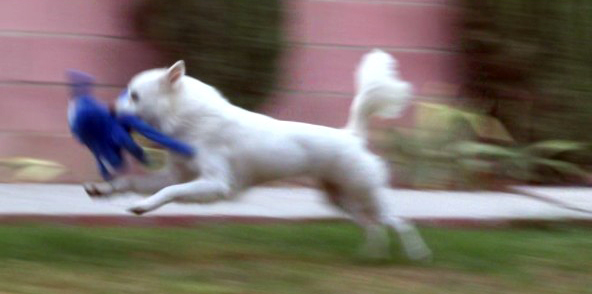 Video: Heidi plays with her octopus
Video: Heidi plays with her toys



Bigger pictures of Heidi:




TO MEET LOS-ANGELES-AREA ADOPTABLE "ESKIES", CLICK HERE

Here are American Eskimos to adopt via Los Angeles Heart Bandits (petfinder listings)
Or use this list of Southern California Heart Bandits adoptable American Eskimos (adopt-a-pet listings)
Los Angeles Heart Bandits also has listings at Found Animals, Pup City, Los Angeles classifieds, Pet Harbor, and occasionally Dogasaur, Eskie Board and the local Recycler


---
I'm aerodynamic!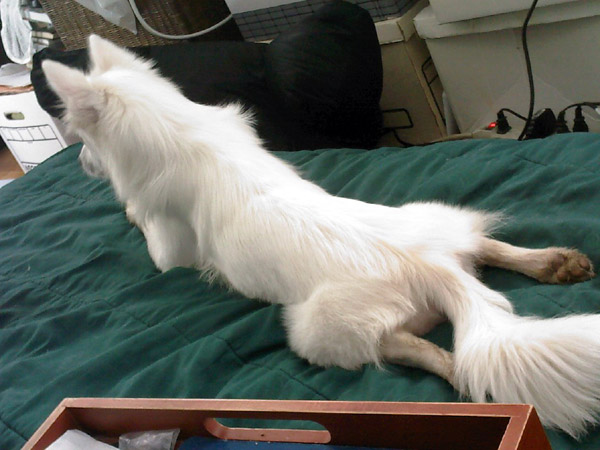 I like to have a pal

Thanks for visiting my page!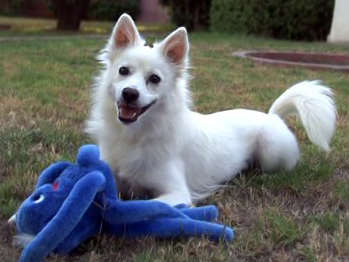 American Eskimo Links:
Click if you're not in Southern California but you are looking to adopt a standard size American Eskimo (input your zip code when you arrive at the site)
Click if you are beyond California and would like to adopt a miniature American Eskimo Dog in your area (type in your own zip code on the form)
Heart Bandits American Eskimo Dog rescue - national website - formed June 1997 (Memberships)
Eskies Online American Eskimo Dog Rescue - northeastern USA - formed March 2001
Eskie Rescuers United - national website - formed March 2003 (Yahoo Group)
Mid-South Eskie Alliance - Tennessee and connected states - formed September 2006
Eskie Board - Forum Discussions of Adoption, Rescue, Puppies, Seniors, Grooming, Pics, Etc.
ResQPet - Emergency Preparedness Kits for your dogs, cats and other pets!
California Dog Rescue yahoo group
Eskie People google group
Alex - a standard-size American Eskimo Dog
Sasha - a standard-size American Eskimo
You can buy a dog via dog rescues, breed rescues, dog adoption fairs, classified ads, city shelters, county shelters, and pet store pet displays, but ALWAYS check to make sure they are not puppy mill dogs. Ask for the name of their non-profit Rescue Organization. (Puppy mills do not have registered non-profit status.) There are some pet stores that work with Rescues, but not all of them do, so inquire in detail. (Real breeders are trying to retain breed standards and sell to ideal owners via applications and review; they NEVER sell through pet stores because they will not allow random strangers to have their dogs.) Make sure you are saving a life, not paying puppymills to crank out litters and discard their "extras" by death or dumping. Thank you!